Ignite tutor Kyle Bestley delighted by recognition in Apprenticeship Awards
Posted on: 14th Jun 2022

Apprenticeships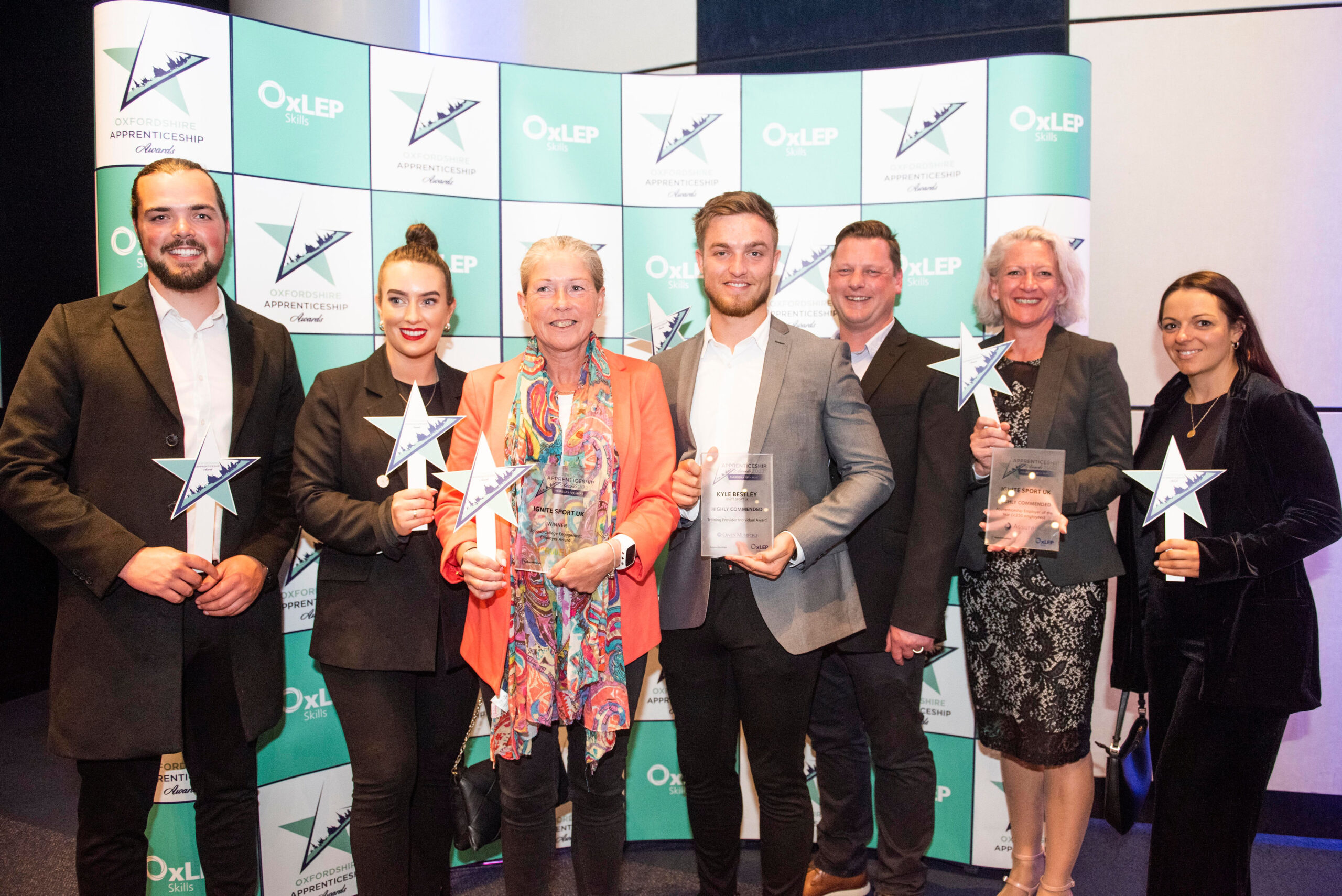 Ignite Training tutor Kyle Bestley said receiving Highly Commended in the Training Provider Individual Award category at the Oxfordshire Apprenticeship Awards felt "so special".
Kyle was invited to a ceremony at the home of Formula One team Williams Racing in Grove to accept his award in person after hosts OxLep Skills confirmed all winners the previous week.
After graduating from our Football Scholar and Apprenticeship programmes as part of his own education, Kyle moved into teaching. In August 2021 he re-joined our team full time.
He works with apprentices studying our Level 2 Community Activator Coach course and coaches Oxford City Football Club's Junior and Youth teams. Kyle also works with Special Educational Needs (SEN) pupils and delivers Charity partnership and Alternative Provision (AP) sessions.
Kyle was recognised by a panel to have gone above and beyond to support and encourage apprentices to help them realise their true potential.
"It feels amazing to have even been nominated for this award – to receive Highly Commended is so special," said Kyle. "I didn't even know my colleagues had put me forward for the award, so it came as a total surprise.
"Tutoring apprentices allows me to be creative with the curriculum and deliver sessions to suit specific needs. Not only am I continually developing my skills as a tutor, but students also learn valuable skills for the workplace.
"Seeing apprentices thrive and better themselves is really rewarding, and it's my ultimate aim to inspire them to be the best version of themselves."
Also in attendance at the ceremony was Ignite Training CEO Justin Merritt with Head of Education Steph McNeil, General Manager Hannah Bladen, Business Development Manager Sorcha Murphy, Active Communities Manager Andy Francis and Business Support Officer Jamie Lea Doody.
The group was invited to support Kyle and collect the School / College Engagement Employer award which recognises our commitment to engaging local students and inspiring the next generation. Our team was also highly commended in the Apprenticeship Employer of the Year category.
General Manager Hannah Bladen added: "We nominated Kyle for the Individual Award category because he personifies exactly what it stands for. He routinely goes the extra mile to engage and support his students.
"He tailors all his course delivery to meet the individual needs of his learners. He works closely with his apprentices so he can identify their strengths and build the course around them.
"Kyle is brilliant at incorporating fun and light heartedness into his sessions, so students have positive learning experiences.
"Most importantly, Kyle is patient, caring and thoughtful with his apprentices."
Justin Meritt CEO of Ignite Training added: "Everyone at Ignite would like to congratulate Kyle on receiving Highly Commended in this category. He thoroughly deserves the recognition
"His contribution to moulding the future of the next generation of young coaches is admirable. Kyle has a very bright future ahead of himself and we were pleased to see him and all of this year's worthy winners collect their prizes."
READ MORE: Ignite Training wins School / College Engagement Employer Award