Tutors celebrate the achievements of apprentices to mark National Apprenticeship Week
Posted on: 8th Feb 2023

Apprenticeships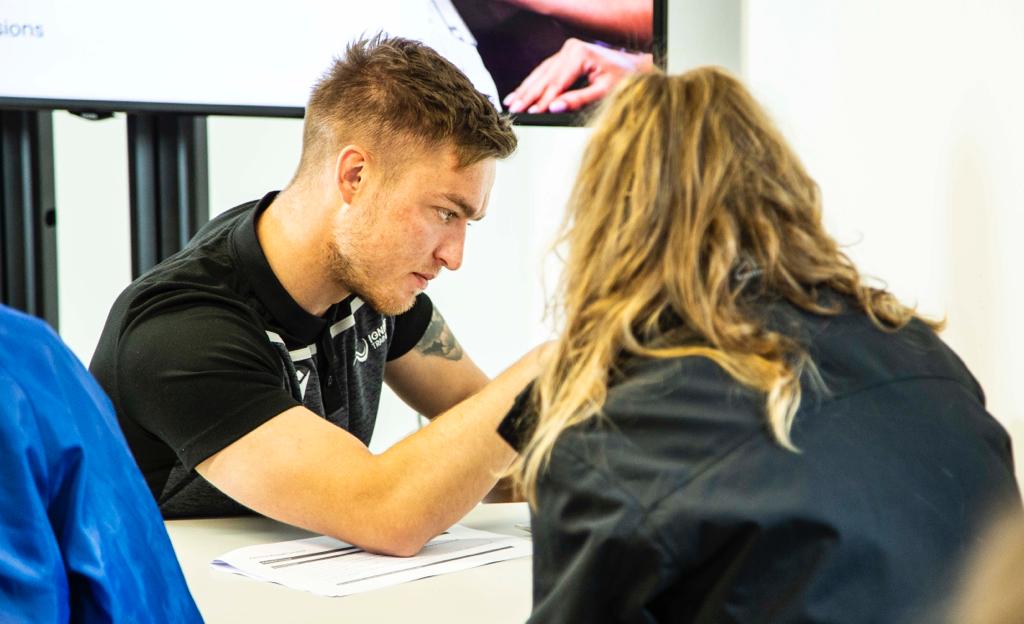 An apprentice turned tutor working to inspire the next generation of coaches and teachers helped mark National Apprenticeship Week by celebrating the achievements of students.  
Kyle Bestley started his career pathway with Oxford-based Ignite Training in 2015.
He has since climbed the career ladder and is now a full-time tutor working with apprentices nationally and students with special education needs and disabilities (SEND).
To mark National Apprenticeship Week, Kyle joined colleagues and current students in highlighting the positive impact apprenticeships have on individuals, businesses and the wider economy.
The group took part in team-based activities and brainstormed ideas to help develop their own skills and knowledge when applying what they learn in real-life situations as part of their development.
Kyle believes more can be done to educate people about the power apprenticeships hold in developing careers, upskilling new and existing staff and facilitating career changes.
"Apprenticeships have changed significantly even in the last eight years since I left school," said Kyle. "I still believe they're misunderstood by a small percentage of the public who may associate them as serving only a limited number of careers and qualification standards.
"In reality, apprenticeships are open to people of all ages, provide a career and education pathway in almost all sectors and are delivered to Level 6 and 7 – the equivalent of a master's degree.
"It was great to step back and reflect on the achievements of our own apprentices and highlight how their enthusiasm positively contributes to our everyday operation."
In addition to teaching Ignite's Level 4 Sports Coach and Level 3 Teaching Assistant standards, Kyle also studies a Level 5 Diploma in Education and Training.
Studying the qualification allows Kyle to broaden his own knowledge and skills, which in turn can unlock new career opportunities. He said combining training with full-time employment benefits everyone concerned.
It comes after a recent Government report revealed 78% of employers agreed hiring an apprentice helped boost productivity, with 73% stating using apprenticeships helped boost team spirit.
"Not only am I continually developing my skills as a tutor, but students benefit from that extra knowledge too which is essential for their personal development," said Kyle. "Seeing apprentices thrive and better themselves is really rewarding, it's my ultimate aim to inspire them to be the best version of themselves.
"I'd definitely encourage other organisations to consider using apprenticeships as a way of upskilling staff. It's proven to help with job retention and proves to staff that their employer is invested and genuinely committed to their development.
"National Apprenticeship Week can help shine a light on this and help generate a fit workforce for the future."
Based in Marston, Oxford, Ignite Training is a registered training provider specialising in the delivery of apprenticeship and adult education qualifications in teaching, sport, coaching and management and leadership.
Further information about Ignite's apprenticeship and adult education provisions is available via its website – www.ignitetraininguk.com.