Oxford apprenticeship training provider recognised in Parliament for its high-class operation
Posted on: 15th Sep 2023

Ignite News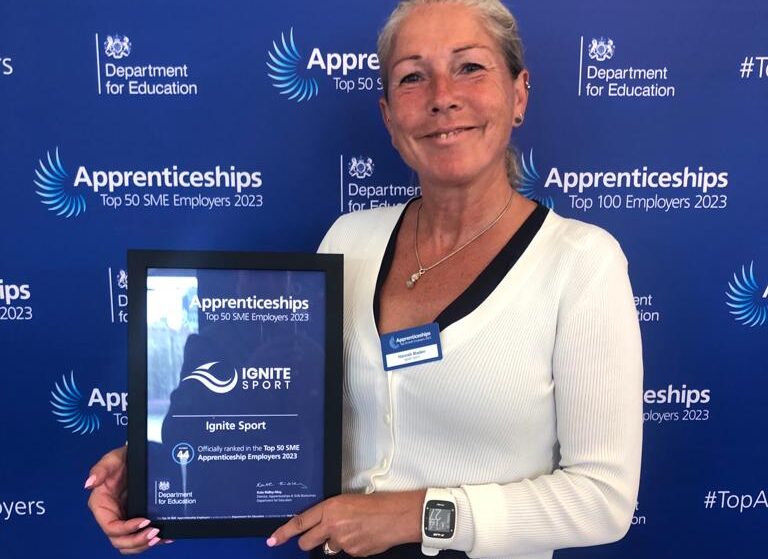 The Ignite Group which marks its 25th birthday next year was invited to the Houses of Parliament after being named in the UK's Top 50 SME Apprenticeship Employers.
Ignite Sport attended a lunch reception at the House of Commons in recognition of its work to create new apprenticeship and training opportunities for individuals in coaching, marketing, teaching, content creation and leadership roles.
The reception was hosted by Robert Halfon MP and celebrated the achievements of England's top apprenticeship employers. It was organised following the launch of the Government's Apprenticeship Employers Rankings which identify the highest performing apprentice employers in England.
Organisations are assessed on elements including their commitment to diversity and apprenticeship achievements, their dedication to delivering high-quality apprenticeships and contribution to helping the economy grow.
Hannah Bladen of Ignite Sport attended the reception on the company's behalf.
She said: "It was a great privilege to be invited to the House of Commons and testament to our team's outstanding commitment to support, guide and embrace apprentices at all stages of their careers.
"We pride ourselves on seeing the potential in everyone and supporting individuals to become the best version of themselves.
"Apprenticeship delivery has formed the bedrock of our strategy since we first started delivering sports-based vocational qualifications across Oxfordshire and Berkshire in 2008. Today, we operate nationally and support talented members of staff in developing their skills, knowledge and behaviours across a variety of sectors.
"Whether organisations are looking to recruit new talent or invest in their existing workforce, there is an apprenticeship out there for everyone and our delivery is key in delivering a fit and competent workforce for the future."
Gillian Keegan MP, Secretary of State for Education, added: "I want to congratulate and thank all the businesses that made the 2023 rankings.
"Apprenticeships are a fantastic way for people of all ages and backgrounds to earn while they learn while ensuring employers develop the pipeline of skilled professionals they need to grow and thrive.
"As a degree apprentice myself, I am passionate about ensuring more people can access the same opportunity I did and I'm delighted our 2023 rankings help us showcase the best of the best in apprenticeships."