Ignite Training to attend Schools and Academies Show at London's ExCel Centre
Posted on: 22nd Apr 2022

Apprenticeships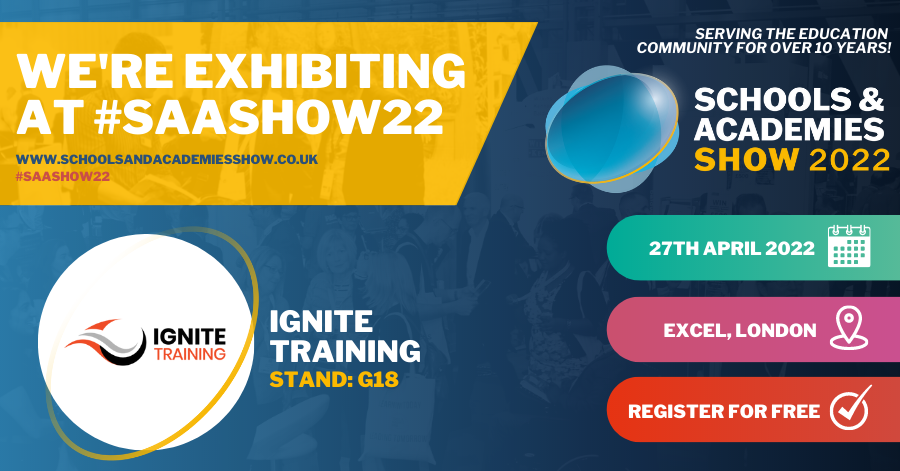 Ignite Training will deliver industry insights to the UK education sector at next week's School and Academies Show by promoting the value of its national apprenticeship provisions.
Hosted at London's ExCel Centre on Wednesday, April 27, the Schools and Academies Show brings together the biggest names in UK education to share valuable insights, advice and solutions.
Our team will be on hand to speak to educational leaders about how apprenticeships can be used to develop new skills within staffrooms, help manage succession planning and enhance pupils' learning experiences.
We'll also deliver valuable advice on how schools and academy trusts can unlock levy funds to help finance employing apprentices and demonstrate the benefits of using an external training provider to develop essential skills, knowledge and behaviours in employees.
Sorcha Murphy, Business Development Manager, said: "We're looking forward to meeting schools and higher education sites at next week's show and share how accessible and beneficial our apprenticeship programmes are.
"The demand we have experienced for our vocational qualifications has been accelerated in recent years. Now more than ever, the education sector values on-the-job development and knowledge its employees learn from bespoke training and real-life scenarios.
"Apprenticeships provide people with an excellent pathway to establish key skills specific to their career of interest and are proven to support both individuals and employers. We are an ambitious team expanding our services to suit education sites across the country and help them grow via apprenticeships in the sport, leisure and teaching sectors."
Based in Marston, Oxford, but operating nationally, Ignite Training is an award-winning RoATP registered training provider specialising in the provision of apprenticeships and adult education programmes.
It recently expanded its apprenticeship delivery portfolio to include:
Level 2 Community Activator Coach
Level 3 Digital Marketer
Level 3 Junior Content Producer
Level 3 Teaching Assistant (PE)
Level 3 Sporting Excellence Professional
Level 2 Team Leader / Supervisor
Level 3 Community Health Officer
Level 4 Sports Coach
Level 5 Learning and Skills Teacher
Level 5 Operations / Departmental Manager
Each apprenticeship blends on-the-job development with a minimum of 20% of an apprentice's total working hours dedicated to training via group and one-to-one sessions which are delivered by Ignite's experienced and qualified team of tutors.
Passes for this year's School and Academies Show can be requested by clicking here. Over 3,000 guests are expected to attend the day, with over 140 exhibitors and 100 speakers onsite too.
Further information about the Schools and Academies Show is available via its website – The Schools & Academies Show London | 27th April 2022 | ExCeL London (schoolsandacademiesshow.co.uk).