Ignite partner Oxfordshire Youth wins Apprenticeship Employer of the Year
Posted on: 20th Jun 2023

Apprenticeships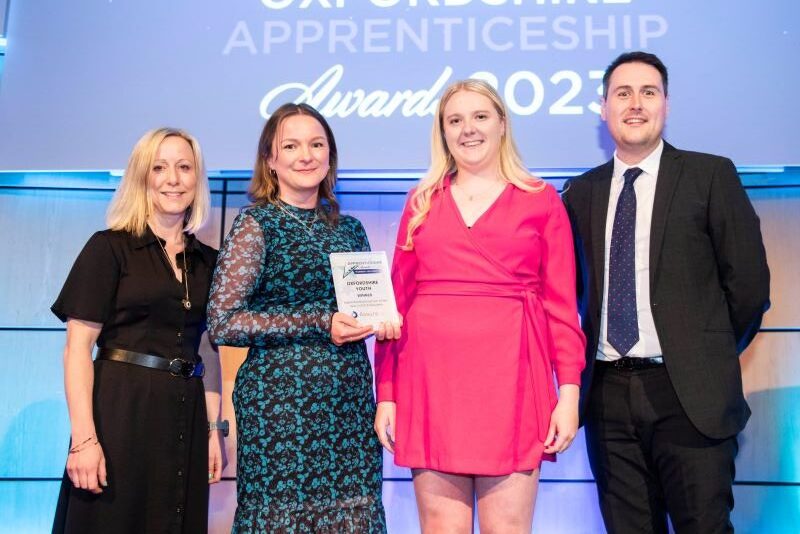 Oxfordshire Youth was named the Apprenticeship Employer of the Year for organisations with 250 employees or fewer at this year's Oxfordshire Apprenticeship Awards.
Founded in 1947, Oxfordshire Youth exists to transform the lives of young people, unite communities and tackle inequality of opportunity via its work with the youth sector, in schools and in collaboration with partner organisations.
A year ago, it was announced that Oxfordshire Youth would partner with Ignite Training to deliver a range of apprenticeships for the professional development of its staff.
Seven full-time employees at Oxfordshire Youth have enrolled onto Ignite's Level 5 Operations Manager qualification as part of the agreement.
The course is equivalent to a foundation degree and educates learners how to understand key business development tools, lead multiple and remote teams and how to approach partner and stakeholder relationships.
Harriet Leach, Senior Manager for People and Culture at Oxfordshire Youth, said "We are so proud of this award and the recognition of all the hard work we have put into supporting our team to learn and develop through apprentices.
"A culture of continuous learning is so important to us at Oxfordshire Youth, and it's great to see this commitment recognised.
"It's great to work with a local organisation who have the same vision for apprenticeships that we do. Ignite are a great partner and listen to the needs of Oxfordshire Youth and our staff.
"The access that the levy funding gives us as a charity continues to make this possible."
Sorcha Murphy, Ignite's Account Manager for Oxfordshire Youth, said: "On behalf of the Ignite group, I extend my congratulations to the Oxfordshire Youth team.
"It is fantastic to see this organisation get the recognition it deserves. Our partnership reflects our shared values and belief that apprenticeships in the modern day are suited to people of all ages, at any stage of their career.
"Apprenticeships have become a valuable, cost-effective tool for organisations to boost productivity and improve professional development of existing staff."
Based in Oxford, Ignite Training is a registered training provider which operates nationally by delivering a portfolio of training and services to individuals, organisations, schools and the sports industry.
Clients include schools, councils, charities, sports coaching organisations, professional clubs, gyms, the NHS and apprenticeship training agencies.
Further information on Ignite's offering is available via its website.