Coach takes his ability "to the next level" via free Step Up in Coaching course
Posted on: 10th Jun 2022

Adult Education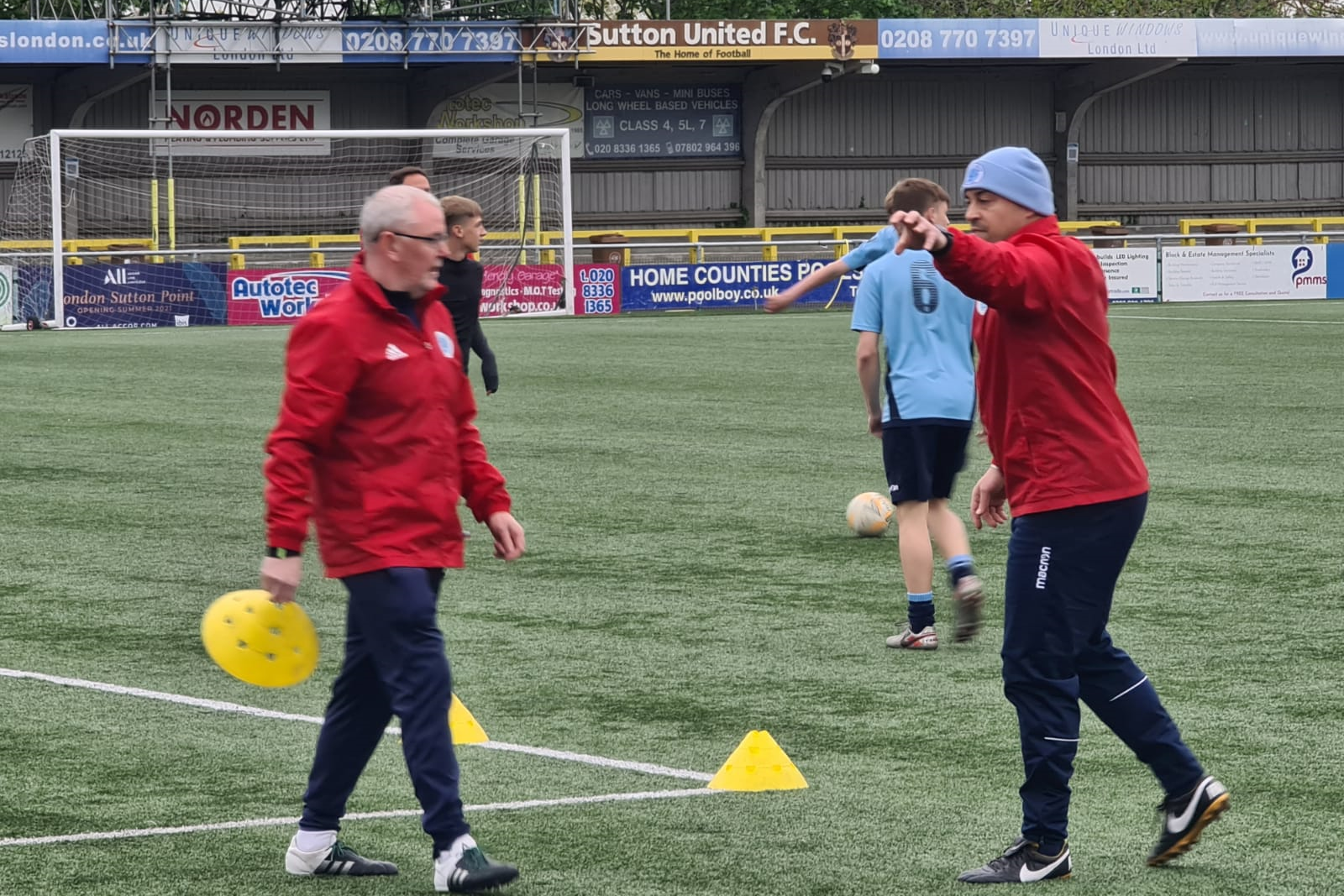 A former League of Ireland footballer turned grassroots sports coach has encouraged new and aspiring coaches to sign-up to a free programme in support of the provision of sport.
Dave Knox enrolled onto Oxford-based Ignite Training's Step Up in Coaching adult education programme to develop his coaching skillset and knowledge after obtaining his FA Level 1 coaching badge.
The 50-year-old is a volunteer coach for his son's team – Hampton Rangers Juniors U10s – and assists with Combined Counties League side Spelthorne Sports FC.
After graduating from Step Up in Coaching, Dave is keen for more aspiring, experienced and volunteer coaches to enrol onto the multi-purpose programme – which is free to anyone living in Oxfordshire, Berkshire or Surrey.
"I have fantastic memories from my playing days, but being a coach is a totally different experience and challenge – I find it very rewarding," said David. "Many clubs at grassroots level are searching for volunteer coaches to support the provision of sport nationally.
"Even at my age, there is still so much to learn. It's why courses like Step Up in Coaching are essential so clubs can inspire the next generation through sport and promote the development of life's key skills such as teamwork, communication and problem solving.
"Sport has experienced a cultural change in recent decades. Even at the foundation level of the participation pyramid, we are promoting nutrition and how to lead a healthy lifestyle – we never had this kind of information when I was growing up, I wish we did.
"Step Up in Coaching has provided me with a fountain of knowledge in these areas and helped take my coaching ability to the next level which can reflect positively on the children and young adults I work with."
Now a painter and decorator by trade, Dave received a Level 2 Certificate in Delivering Health Related Activity Sessions after completing the programme.
It's delivered by UEFA A Licensed FA Coach Educator Justin Merritt and UEFA B License holder Wayne Goss and takes the average graduate a month to complete. Following a relaxation of COVID-19 restrictions, the course is now delivered both remotely and in-person – which has led to an explosion in the number of applicants.
Dave added: "I'd advise anyone considering breaking into coaching either as a volunteer or with a career in mind to enrol onto Step Up in Coaching.
"The course plugs those knowledge gaps experienced and new coaches might have concerning their session delivery and engagement with participants of all ages.
"A good coach should always aspire to keep learning. The information I learnt from Step Up in Coaching will be invaluable to my development and hopefully reflect positively on the children I work with.
"Best of all, it's completely free. So, you have absolutely nothing to lose."
Justin Merritt, Ignite Training CEO, added: "It's fantastic to be delivering our Step Up in Coaching programme in-person again following an extended period of remote delivery.
"Dave is a great example of how Step Up in Coaching can support learners in adopting new coaching techniques and session planning ideas through flexible assignments and professional support.
"There is always a great need for experienced and qualified sports coaches, especially at grassroots level. Step Up in Coaching is here to develop the next generation of quality coaches who can inspire and pass on valuable knowledge to those they engage with."
Aspiring and current sports coaches interested in enrolling onto Step Up in Coaching can secure their free space by emailing hello@ignitetraining.com. Alternatively spaces on Ignite Training's June and July programmes can be secured by clicking here.