Developing skills and knowledge for life via an apprenticeship
Posted on: 9th Nov 2021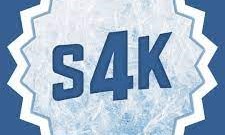 Apprenticeships are an excellent way for people to learn industry skills while following a proven career pathway which promotes development, confidence and qualifications.
Angus Caruth is close to completing his Level 2 Community Activator Coach programme with Surrey-based Sport4Kids.
The 19-year-old combines his time coaching children a variety of sports in school and community settings with his studies, which are delivered by Ignite Training's experienced and qualified team of tutors.
Upon leaving school, Angus had several education pathways to choose from. So why did he choose to study an apprenticeship? Ignite Training caught up with the aspiring sports coach to learn more.
Hands-on approach
An apprenticeship is a vocational qualification. This means they are designed to enable all apprentices to acquire the required knowledge and skills to be able to perform a job.
This hands-on approach is what attracts most people to enrolling onto an apprenticeship programme. Additionally, Angus is paid while he works towards his qualification.
This has placed him in a "win-win" situation.
"I much prefer real work to being sat in a classroom," said Angus. "My apprenticeship has been a fantastic opportunity for me, and I have enjoyed learning from my colleagues while working towards an industry-recognised qualification.
"Gaining a qualification while being paid was a big attraction for me. But also the opportunity to improve my employability by being part of a professional team was important to me."
Progression pathway
Like all qualifications, apprenticeships are available at different levels with each programme lasting a minimum of 12 months and concluding with an end point assessment.  
Angus' Level 2 apprenticeship is the first step on the vocational qualification pathway. He will now be eligible to complete a Level 3 apprenticeship, if he wishes, with courses available up to Level 7 (degree) – the equivalent to a master's degree.  
"Sports coaching is where my future sits," said Angus. "During my apprenticeship with Sport4Kids, I have been teaching a variety of sports which I like the idea of moving forwards.  
"But I also love football and would love to explore a career coaching my passion. With an apprenticeship, there are no barriers. I am able to be responsible and complete tasks which 12 months ago I wouldn't have dreamed of fulfilling.  
"It's rewarding when you look back and appreciate how my confidence and ability have developed in the last 12 months, despite COVID." 
Overcoming challenges
On-the-job training and learning naturally develops apprentices' ability to take extra responsibility as time progresses.
For Angus, he believes shifting from a school to a professional environment presents a handful of unexpected challenges. But these are challenges he has been able to overcome with the support of Sport4Kids, his colleagues and Ignite Training.
He said: "Going to work is a lot different to my time at school. Time management was something I was never familiar with before I started my apprenticeship.
"I would say that was my biggest challenge. But working as part of a team has helped me to develop these skills, and my tutoring with Ignite Training supports that.
"I feel like I've improved my coaching ability too. I know I can go into a school and confidently handle most situations, which is what my apprenticeship is all about."
Structured training
Every apprenticeship in the UK must feature a minimum of 20% education.
This means employers dedicate time to each apprentice so they can develop skills via group work, practical sessions and tutoring. Training can be internally or externally provided.
Sport4Kids uses Ignite Training as its nationwide training provider for sports-based apprenticeships so people can fulfil a successful career once their complete their apprenticeship.
"I will study with Ignite Training once a week and we'll have work to complete between sessions," said Angus. "My lead tutor Leigh has been great to me. He is straight to the point and always at the end of the phone for guidance and support if I need it.
"The training element of my apprenticeship has been really important. I have been able to apply what I've learnt in real-life situations which has developed my professional ability and confidence."
Go for it!
So, what would Angus advise to anyone considering an apprenticeship to facilitate a career change or develop skills with an existing employer?
His message was quite clear.
"I would advise anyone considering an apprenticeship to go for it," said Angus. "My apprenticeship has been great for me and I am so pleased I enrolled.
"It's helped me develop the skills I need for the career I want to pursue."
For more information about Ignite Training's range of apprenticeships and the training we provide, visit our apprenticeships & courses.