Changing careers via an Ignite Training apprenticeship
Posted on: 2nd Dec 2021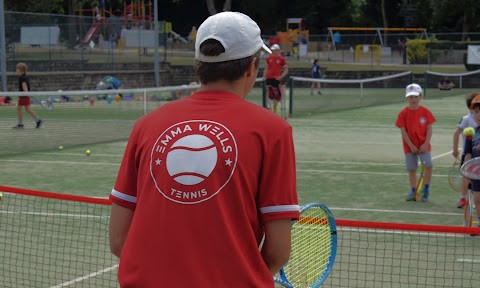 A comprehensive survey conducted by Total Jobs revealed the impact of COVID-19 has prompted a staggering 22% of British workers to realise their current career isn't for them.
Furthermore, 25% of workers were keen to switch carers to learn a new skill with a third wanting a better work-life balance.
Apprenticeships are for people of all ages and abilities and can be used as a platform for individuals to successfully change careers while developing job-specific skills, gaining an industry recognised qualification, and earning money.
Changing careers
Olga Matjusenko left her part-time role at WHSmith to pursue her dream career of coaching tennis in September.
The 36-year-old mother-of-one is studying a Level 4 Sports Coach apprenticeship with an additional Level 1 and Level 2 in tennis (LTA) with Ignite Training while working full-time at Wimbledon-based Emma Wells Tennis.
Emma, who founded Emma Wells Tennis in 2018, explained how an apprenticeship has helped Olga source a pathway to her dream job.
"Olga is a very fast learner and knows that a career in tennis is for her, I admire her focus and determination," said Emma. "I wanted to find the right person when hiring an apprentice, someone who would grow and develop their skillset."
Age is no barrier
In 2019 and 2020, 47% of apprentices in the UK were aged 25 or older.
Apprenticeships have developed significantly since the turn of the millennium with more people experiencing the benefits of a vocational qualification, such as:
Developing skills in sectors of interest
Gaining an industry-recognised qualification
Establishing on-the-job experience
Building contacts
Improving career prospects
Emma added: "Olga has reached a stage in her life where her daughter is establishing her own independence. It's granted her the opportunity to start her coaching pathway.
"Olga has been with us for three months and is a great addition to our team. She is willing to learn, grow and evolve as a coach which is exactly what we want."
Developing staff
The benefits of hiring an apprentice are not exclusive to the learner.
A Government survey revealed 96% of employers with apprentices experienced at least one benefit by providing vocational qualifications. The survey also revealed 73% of employers improved staff morale by hiring apprentices.
Emma said: "We already have a team of natural leaders among our coaches, but it's important we grow and develop people via apprenticeships.
"By developing someone in-house through external training, we will have a qualified member of staff who is fully trained and ready to deliver sessions. The goal is to always have a full-time job for our apprentices once they complete their qualification."
Cost-effective training
Organisations who hire an apprentice between now and January 31, 2022, are entitled to a £3,000 grant from the Government.
This cash bonus scheme was introduced in recognition of the value apprentices bring to businesses and the wider economy. Funds can be used however an organisation wants, but generally support outgoings such as wages, uniform, equipment and expenses.
Further information about the Government's incentive payments scheme.
Emma Wells Tennis
So, who is Olga working with and why?
Emma Wells Tennis works with 500 junior players each week and adults with the aim of growing peoples' love for the sport and providing a safe, supporting environment to learn tennis in.
It does this by delivering fun, inclusive and supportive tennis sessions which develop physical, technical and team skills. Emma's passion for tennis has taken her around the world and now she wants to inspire a new generation.
"I have always wanted to own my own business and help people to enjoy tennis," said Emma. "After working in a variety of roles both on and off the court in the past 15 years, it was great to form my own company three years ago.
"Olga has joined a team of six closely-knit staff and is right now predominantly shadowing and assisting in sessions but has already developed the ability to take responsibility for lessons of her own. We're very pleased to have her on board."
Further information about Emma Wells Tennis is available via Emma Wells Tennis – Wimbledon Park.